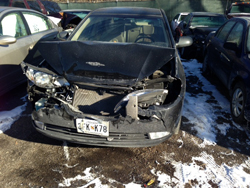 Most people don't know you can sell a wrecked vehicle. I mean its primary use is for transportation, right? Now it's of ZERO value to you because it doesn't drive–it may not even start. You're not sure what to do with your vehicle after a wreck, in fact, you're not even sure where your damaged vehicle is at the moment because the police arranged the tow from the scene.
So what should you do with your damaged vehicle?
Here are KEY WRECKED CAR CRITERIA to help you make a fast, informed decision:
If you can't afford to fix the car without borrowing money – sell it fast
If it has over 100,000 miles, sell it fast
If it's older than 5 years old – sell it fast
If you don't want your wife & kids back in the vehicle – sell it fast
The KEY to making the best decision for you and your family with a collision damaged car is to ACT FAST. If you delay a decision, the storage bill will eat into what's left of your vehicle and ruin your chances to get any cash out of it. So if you've had a car wreck, call DamageMAX.com today for an instant cash offer for your damaged vehicle. It will take less than 5 minutes of your time and we are happy to quote any damaged vehicle, anywhere, in any condition free of charge.
The wrecked car experts at DamageMAX quote thousands of damaged vehicles per week and we are happy to help you any way we can.
Permalink
|
|