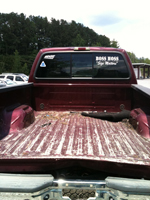 If you are looking to sell a recently wrecked truck or SUV, or get it out of storage after an accident, DamageMAX.com will pay top dollar for your Wrecked Truck and pay to tow it away absolutely free. Many people can't afford comprehensive insurance coverage and have an accident. Without coverage, their vehicle is towed & impounded by the police who just want it off the roadway. They could care less about your financial situation!
We see hundreds of consumers with Wrecked Trucks lose their vehicle to storage yards because they can't pay the storage and have no place to tow the vehicle if they did. DamageMAX.com is the answer! Call DamageMAX.com now to sell your Wrecked Truck and we will get your truck out of storage and tow it away absolutely free. If you act quickly you can get paid top dollar for your wrecked truck and go get yourself a new vehicle.
If you have a Wrecked Truck make your first call to DamageMAX.com and we will get you cash and get your Wrecked Truck out if jail!
Call (888) 629-2137 or visit www.damagemax.com for an immediate cash offer.
Permalink
|
|