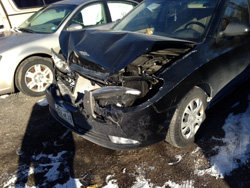 The Best Things In Life are Free, right? You bet! Only finding things that are free these days seems virtually impossible. I would settle for "a deal" in place of free, but there aren't even many deals out there anymore - especially when it comes to auto insurance. Recently one of our clients asked if they could get a deal on insurance for a car they were thinking of buying with a salvage title? Here is what a major insurance company (TOP 5) told us:
Is insurance cheaper on a salvage title vehicle?
The short answer is no, in fact it will cost more.
Salvage title vehicles pose a greater risk than one with a clean title and premiums will be on the higher side. Since the extent of damage was significant enough to brand the vehicle with a salvage title, there is a greater chance that it will be a bit unsafe on the road.
Where is the savings in buying a salvage title car then? Upfront perhaps…but you had better pay half the book value for it, or it was no deal. In fact, you will be stuck with that vehicle for a very long time if you paid anymore than 50% of retail value. Most dealers that sell salvage title (rebuilt) vehicles will save you a few thousand dollars and tell you it's a great deal. It's not a very good deal at all.
Here's more on why:
Banks won't finance a salvage title vehicle
Insurance companies will only allow liability coverage (at a much higher rate)
Dealers won't trade-in a salvage title vehicle – the don't even want vehicles with a bad CARFAX!
You will take a huge financial loss when you try to sell a salvage title vehicle
There are very few places that buy salvage title vehicles
DamageMAX will buy any vehicle, anywhere in any condition but salvage title vehicles do not command a premium. If you have a salvage title vehicle or problem vehicle to sell, call (888) 629-2137 or visit http://damagemax.com/contact-us.htm.
Permalink
|
|