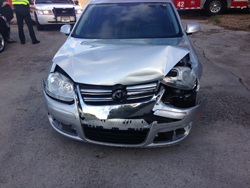 If you are one of the 20M people involved in a car wreck this year, you will encounter "steering" in some way, shape or form. Steering in the collision industry is when the responsible insurance carrier pressures you into taking your vehicle to one of their network body shops. Why do they do this? For control and efficiency. "Steering" is illegal in many industries and a topic that is surrounded by controversy because it affects the pocket books of the consumer and vendors throughout the claims handling vertical.
When you're in an accident you rely on an insurance company, either yours or the person that ran into you, to return your vehicle to it's pre-damaged state. One would expect them to use quality parts and quality labor for the repairs, you want a quality repair you can trust! Years ago we saw the insurance industry turned on its head for trying to force inferior body parts on repair shops. The courts decided in favor of car owners, and now in most states they have to pay for OEM (original equipment) parts if you request it.
When you make a claim for a repair, historically you've been able to have the shop of your choice write up an estimate and make the repairs. Now, insurance companies are trying to restrict the shops you can use to a pre-approved list of facilities. In other words, they're telling you where to get your car repaired. The shops are probably quality establishments for the most part, but if they're getting steady income from insurance company business, who do you think they have on their minds when they're making decisions regarding your repair? Human nature and good business practices say you'll be number two on the list. Anti-steering legislation provides negative incentive for insurance companies to "steer" so they have learned to "Sell, instead of Tell". This means, they will "encourage" you to use one of their network shops. You may hear things like "We are swamped right now and I won't be able to even look at your car at Body Shop ABC until next week, but if you let me move the car to Body Shop XYZ, I can probably get the job started by Wednesday". Some people will follow the process and do exactly what the insurance adjuster tells them to do, because they have no idea how to handle it on their own. We want to change that game by changing the rules and empowering the consumer and giving them a new alternative – don't fix it at shop ABC or XYZ – sell your wreck and keep the insurance check!
That's right folks, this blog is a shameless attempt to enlighten you to what DamageMAX does, we buy wrecked vehicles and we want yours! What's in it for you?
Peace of mind - you don't have to drive a wrecked vehicle
Better financial decision – no depreciation or diminished value to deal with on repaired vehicle
Reward - get something new to drive, you earned it!
Time – don't wait for anybody, get paid and move on
You can also avoid steering altogether by just selling your wrecked vehicle for cash to DamageMAX. Don't get caught up in the claims handling game, make the best decision for you and break out of that damaged vehicle by selling it for cash. Damaged Cars and trucks are in demand, not just for the metal, for the replacement parts. It's a very green business and the reusable components from your wrecked vehicle will be remarketed and installed on another vehicle somewhere in your marketplace, perhaps even abroad.
For more information on anti-steering, or a cash offer on your damaged car or truck, please call (888) 629-2137.
Permalink
|
|