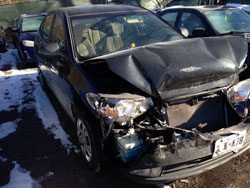 Most people have an accident and succumb to the insurance company's process. Whether it's yours or the person's that hit you, get ready for a real treat. It's called "Hurry Up & Wait"!
Your job is to let them know you have had the accident pronto, they will give you a claim number and a new toll free number to call for information regarding your claim. Then, you have to wait to hear from an "adjuster". I wonder why they call them "adjusters' anyway, do they adjust your claim up from what it's supposed to be? Or downward to save their company money? Once you report the claim, they will have the damage estimate performed. If you are lucky, that will be done at the shop it was towed to, otherwise the adjuster will ask you to move it to a shop that is in his/her network. They will suggest that it will be done faster, better and of course they offer "free towing". If you agree, Congratulations! You just got "steered" to a DRP (Direct Repair Program) Collision Shop. Does it really matter to you? Yes, because steering is illegal in most states! Plus, it's fairly certain now that you will not be getting a total loss settlement. You see friends, insurance companies are pretty good at triage which is a fancy name for knowing (at a quick glance) whether your car is repairable or will be totaled. The insurance company will keep you in the dark while they make the best decision for them–not for you and your family. They lead you where they want you to go and you are powerless.
What can you to prevent this? Be informed and be firm about what you expect. Here are a few good rules on how to handle your insurance company after an accident:
Report the accident immediately – waiting serves no purpose other than to delay the whole process which is long enough already.
Call whatever number you are provided and make first contact with your adjuster. If one is not assigned, keep calling until a name is provide.
Do not give permission for them to move your vehicle. It can be estimated where it sits. If they move it, you have no leverage.
Get a digital copy of the estimate emailed to you with all the photos. You can send that to other collision shops and agencies like DamageMAX that will buy the damaged vehicle on the spot for top dollar.
If your insurance adjuster gives you are hard time, remind them that you are the customer. Insurance companies are highly regulated and they have to be very cautious about pressuring policy holders into decisions.
If it turns out that your vehicle will be repaired because the damage is not significant enough for a total loss and you do not want the vehicle, DamageMAX will buy the vehicle from you and you can keep the repair check plus your deductible and apply it to something new.
The internet has empowered consumers with a wealth of information. You just got rear-ended by a distracted driver, don't let their insurance company take you down the same road!
For more information on selling a damaged vehicle please call (888) 629-2137 or visit damagemax.com for a free consultation.
Permalink
|
|