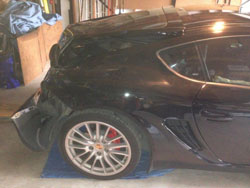 Here is a great example of how innocent people get stuck with vehicles that suffer from diminished value & the stigma of a dirty car fax report.
If you have had an accident with your vehicle it will never be the same, especially when it comes to value. The first thing you have to decide is "Do I want to repair my car"? Think about it….You have a check for several thousand dollars in your hand, the car is paid off and it has 100,000 miles on it and it won't last forever! Wouldn't it be great if someone would come pay a couple of thousand bucks for the wreck and tow it away? Then you can just go get a new car…sounds like a dream, right? WRONG! It's a reality and it's happening every day.
While anyone can sell a damage car with just a phone call, only the educated & savvy are aware that this option is available to them today.
Your insurance carrier really doesn't care if you take the repair money and run, in fact it saves them time & money in managing the repair process plus the cost of the rental vehicle while your car is being fixed.
Get with the program and take the new route to a new car. DamageMAX will buy any damaged vehicle for cash, "as-is" where is!
For more information on how to sell a damaged vehicle, call (888) 629-2137 to speak to one of our live agents or visit www.damagemax.com.
Permalink
|
|