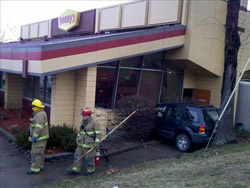 Your son begs and pleads to borrow your SUV to go with some friends to Denny's for a late night feeding. He calls 2 hours later and the first words you hear are "Mom, I'm sorry".
You just paid the vehicle off and dropped the collision coverage, this is not a good time for a car wreck you are thinking. Everyone is okay, maybe it's not that bad you keep telling yourself. Then you see your vehicle and it looks destroyed. Even if you could afford to fix it, you would never drive it again after sustaining that much damage. Junior is grounded forever!
Whats next? You need to get your car out of the towing yard and you can't have them take it to your home. Repairing all that damage is not an option either, you will have to just junk it, right? Wrong! There really aren't any junk yards anymore. There are scrap yards and auto recyclers that dismantle automobiles and sell the usable parts. Your Wrecked Vehicle is not junk! Your damaged car is not salvage. It's worth hundreds of dollars, perhaps thousands and the only way to find out is call DamageMAX for a free price quote!
Call (888) 629-2137 for an instant cash offer. We pay to tow it away and there is no charge for title processing.
Visit http://damagemax.com/contact-us.htm 24/7 and leave us your vehicle information and we will email you back a cash offer.
DamageMAX, pays the MAX for damaged and inoperable vehicles. Don't salvage your truck or car, sell it for parts and get more by calling DamageMAX.com
Permalink
|
|