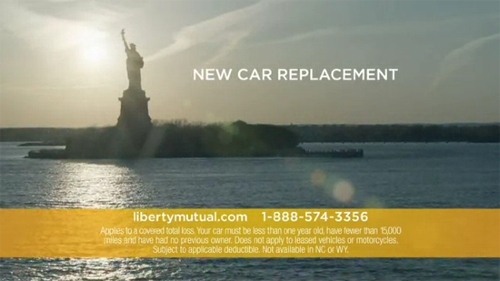 By now you have seen one of Liberty Mutuals New Vehicle Replacement ads….if not here are links to both spots:
http://www.ispot.tv/ad/7yvo/liberty-mutual-new-car-replacement
http://www.ispot.tv/ad/7yPK/liberty-mutual-new-car-replacement-and-accident-forgiveness
We love the concept but it begs the question; why only for vehicles less than one year old?
Liberty Mutual obviously gets an "A" for the idea, but an "F" for execution because only a small percentage of the vehicles on US roads are less than 12 months old. If you read the disclaimer in their ad which appears for roughly 5 seconds of the spot, its for new or current model year vehicles only. This gets them a bunch of exposure on the marketing side because consumers will check in with Liberty Mutual for a rate, but very few people will actually be in position to use the new car replacement option because is new car buyers only. What about the other 230 million people on US roads ? What if they want a replacement program? What option is available to them?
While no insurance company offers a vehicle replacement program for a used vehicle, there are several companies that buy damaged cars "as-is" and allow the consumer to keep their repair check and go get a new vehicle. This isn't a true replacement program, or a total loss, but its the next best thing. In fact, many insurance carriers offer a hybrid of this program "off the radar" for their best customers. DamageMAX.com launched it's Courtesy Total Loss Program 18 months ago and currently accepts customer referrals from 3 major insurance carriers.
If you just wrecked your car and you want to get something new, keep the repair check and call DamageMAX for a free, no obligation quote. We buy vehicles "as-is, where-is" all over the Continental United States.
Permalink
|
|