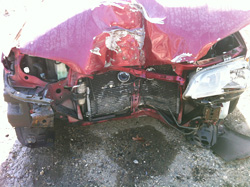 Honda owners are discriminating, loyal and proud of their vehicle regardless of age or miles. That said, most Honda's are kept in excellent condition by their owners and they keep performing, delivering impeccable fuel economy for many miles and years of use. Because of their strong resale value, rarely is a Honda "scrapped", they just keep getting resold and refurbished or "re-purposed" by another Honda lover.
If you wreck your Honda and can't or don't want to repair it, DamageMAX is here to help you make the most of that situation. If it sells good new, it will sell good used and the parts will be in demand for another vehicle that needs repair. Don't junk that wrecked Honda, sell your Honda for Top Dollar to DamageMAX.
For an immediate cash offer on any Honda, please call (888) 629-2137 or visit damagemax.com.
Permalink
|
|