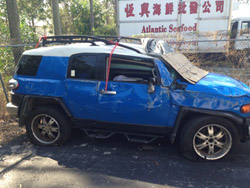 We see a lot of blogs on this topic all over the internet. Most of them self-serving attempts by a junk yard trying to earn a few extra "Google Clicks" a month. Usually, there isn't any valuable information contained in the blog itself, just lots of the same key word phrases over and over…This is called "stuffing" and it's an SEO tactic that is considered to be "gray hat" by the Google Police. Let's take a look at what salvage means…
Salvage defined - to gain something beneficial, from a failure or catastrophe. That something beneficial would be cash!
It's important for you to understand what salvage means in terms of automobiles before you decide to sell your vehicle. In the world of Damaged Vehicles, there are 3 categories or levels of vehicles with specific buying audiences for each:
Scrap/End of Life = Less than $1000
Parts Only = Less than $3500
Rebuildable = More than $3500
This information is extremely valuable if you don't know what category your damaged vehicle falls under. Many people have an accident with a late model vehicle and sell the car for scrap to a junk yard. There are hundreds of sites on the internet that hone in on the word JUNK, or JUNK YOUR CAR, or SELL JUNK CAR. People that sell their car to one of these firms probably just gave away hundreds of dollars by selling their "asset" for far below market value. No automobile is JUNK. It may fall into End-of-life, or SCRAP but it still will fetch a few hundred dollars and if it can be used for parts or rebuilt (repaired) it may bring thousands of dollars!
If you have a damaged vehicle to sell and you are uncertain what it is worth and just want a free price quote, please call (888) 629-2137 or visit http://damagemax.com/contact-us.htm.
Permalink
|
|