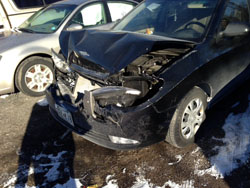 One of your kids was texting away and wrecked mom's hand-me-down. The car has 100,000+ miles on it and you opted for the $1000 deductible in an attempt to "neutralize" the rate beating your insurance carrier threw you with the addition of those newly licensed drivers you are raising.
Seems like you might be throwing good money at a not so good cause by fixing the vehicle, so you look for a way out it. Junior suggests "Let's donate it Dad, and we'll get something else!" He never liked the old family sedan anyway, time for a "tuner car, right dad"? WRONG! Let's talk about the donation idea…
You hop on Google and search "car donation" and this is what you see -
About 93,300,000 results (0.36 seconds)
There are 93 Million results for the search "car donation" and there are no easy answers. Talk about a quagmire!
About a million cars get donated annually and about 75% of them are end-of-life vehicles. The other 25% are running and driving "granny cars" that are usually worth thousands of dollars. What happens to these cars will shock you and may even hurt your feelings. Most of the car donation sources are not charitable concerns they are car dealers, some of them are not even licensed. Many are recyclers posing as car donation processors that will try to pay you cash for the car and talk you out of the donation anyway. Donating a vehicle is not really an efficient way of getting the most out of the vehicle. There are very high disposal charges associated and the processor will usually take a % of the proceeds, leaving pennies on the dollar left for the charitable concern. Many times, those really nice "granny cars" seem to vanish into thin air and the charitable concern gets a check for a few hundred instead of a few thousand dollars!!!
If you want to get rid of a damaged vehicle and get top dollar for it, call DamageMAX.com. We always tow for free and we won't charge you any processing fees, title charges or administrative fees. You will always get paid the full amount that you negotiate with us.
Then take the proceeds from the sale of "Old Bessie" and send them to your favorite charity. It's a cleaner and simpler transaction and you'll know exactly where your money went.
For additional information on donating a wrecked vehicle, or no obligation price quotations, please contact www.damagemax.com.
Permalink
|
|