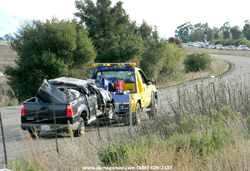 Here's more proof why selling your damaged vehicle is a much better deal than fixing it and trading it in later. Once you have an accident, you have lost control of a lot more than your vehicle. You have NO SAY in what happens to you next if you don't act quickly.
1. At the accident scene, the police call the tow company of "their" choice–you can't use AAA or your MFR's Roadside Assistance because it's not an option. To make matters worse, you have no idea where your vehicle will be towed and the police are "close–lipped" and just hand you a slip of paper to call to find out where your car may be??? Check this out… the towing company in most cases will be getting a "bribe" which they label a referral for bringing your vehicle to their repair facility. You have NO SAY in this because you have no control of this process.
Now lets talk about what happens next. If you elect to fix your car, the Towing Company that dropped your car off at the body shop will get a HUGE kickback after the repairs are performed–10% of the repair amount! That's right, if the repairs are $8500 the Towing Company will get a check for $850. Guess who paid for that? YOU, YOUR insurance company and YOU again because your rates are going way up for all these expenses! Fixing your wrecked vehicle is not the best option, sell the car fast and cut your losses.
If you decide to sell your damaged vehicle, act fast because the shop that is holding your car hostage will be charging you outlandish fees. They will look like this:
Administration Fee
Daily Storage Fee ($25-75/day)
Personal Property Fee
Environmental Fee
We even had a shop charge extra to release the vehicle to anyone else but the owner of the vehicle. Wait…isn't it your car? You had an accident, the vehicle wasn't impounded for something illegal, why all these fees? Why don't you have any say who tows your vehicle?
Take control of your accident and make a quick decision. Call DamageMAX.com and let the damaged vehicle experts deal with the tow yards. DamageMAX.com will buy your damaged vehicle for top dollar, pay the charges and tow it away at no additional cost.
Call DamageMAX.com for an immediate cash offer and take charge of the situation and your vehicle. Call (888) 629-2137 to speak to a live Damaged Vehicle Consultant.
Permalink
|
|