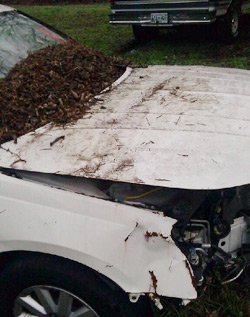 I recently had a healthy debate with an associate about Diminished Value. Diminished Value takes place if, and only if there is an auto accident or the vehicle has sustained some type of damage that requires repair. There is no quandary or debate, if the VEHICLE gets damaged and you elect to fix it, it has been repaired and it will impact the value of the vehicle. Body shops will offer that they fixed it better than it was right from the factory…."Right! And there is a bridge in Brooklyn that I can sell you for a great price!". If you have had an accident, you have 2 options:
Fix it
Sell it as-is
Option 1 – pay out of pocket for the deductible, wait for the repair to be completed and get your vehicle back and hope everything is "better than it was when new". Sounds great right? Too bad most of the time it never works out that way…Plus, when you go to sell your vehicle you will take a huge hit for accident history. Nobody wants an accident car – especially a dealer because they are forced to disclose all the damage to the next customer.
Option 2 – sell your damaged vehicle for cash to DamageMAX and pocket the insurance repair check, keep the money you would have spent on the deductible and go get a new vehicle. Leave the accident history and all that depreciation behind. No running from dealer-to-dealer, hoping for a fair trade-in figure. Dealers don't buy damaged vehicles or even trade them in after they are fixed. DamageMAX buys Damaged Cars and we pay more than other Damaged Vehicle Buyers.
Don't take the hit on your vehicle resale value because you got rear ended! Sell your Damaged Vehicle to DamageMAX.com today.
Call (888) 629-2137 or visit http://damagemax.com/contact-us.htm for an instant Cash Offer on your Damaged Car.
Permalink
|
|